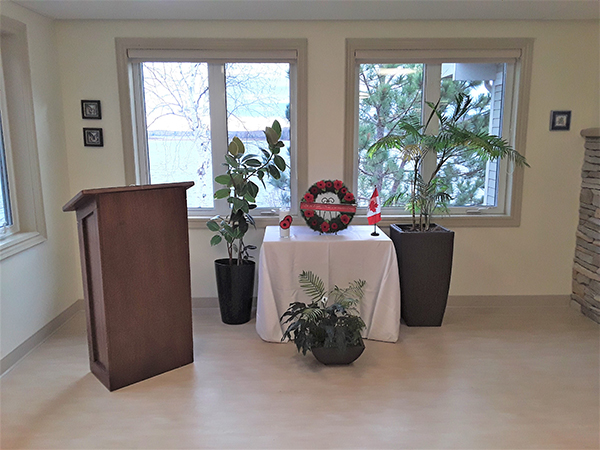 On Thursday November 11th, residents, family members and hospice staff gathered in the common room at 11 a.m. to commemorate Remembrance Day.  All were glad to be able to participate as members of their community at this civic event.
"We must remember.  If we do not, the sacrifice of those one hundred thousand Canadian lives will be meaningless", read the officiant.  The bilingual ceremony included the reciting of Lieut. Col. John McCrae's poem, In Flanders Fields, a bugle sounding the "Last Post" followed by 2 minutes of silence which was broken by the traditional call of "Reveille".  The story of the "Poppy as the Veteran's Memorial" was told, Moina Michael's poem "We Shall Keep the Faith" was recited and the ceremony was crowned by our national anthem.
To respect Covid social distancing directives, "in person" space was limited to a small number of residents accompanied by one family member.  The ceremony was also transmitted virtually to those who were not able to attend in person.  The Hospice assured that an electronic device was provided to residents wishing to participate online.
"I've often attended Remembrance Day services", said one resident. "I'm happy that I was able to attend yet another, probably my last, in person.  It was a very moving ceremony and I as honoured to be invited.  Thank you."
Maison McCulloch Hospice continues to fulfill its mission of "adding life to the remaining days".  "It's our purpose.  Preserving dignity by supporting those who are at end of life to continue 'living' the best they can, even as far as fulfilling their civic duties, such as participating in a Remembrance Day ceremony, is part of that mission", states Norm Blanchard, Manager of Supportive Care and Grief Services and organizer of the Remembrance Day Ceremony. "We are grateful to Hospice staff members who were part of the team that made this memorial ceremony possible."