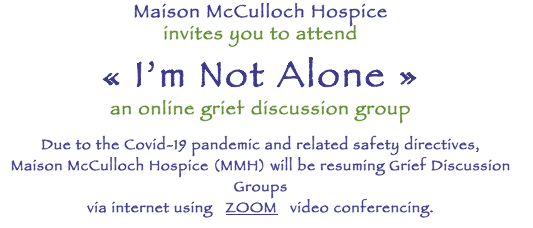 Maison McCulloch Hospice invites you to attend « I'm Not Alone » an online grief discussion group   Due to the Covid-19 pandemic and related safety directives, Maison McCulloch Hospice (MMH) will…
Revised April 27, 2020 Download PDF version
Given the present circumstances surrounding the Covid-19 pandemic, please note that grief discussion groups are temporarily suspended until further notice. For further inquiries or if your need for grief support…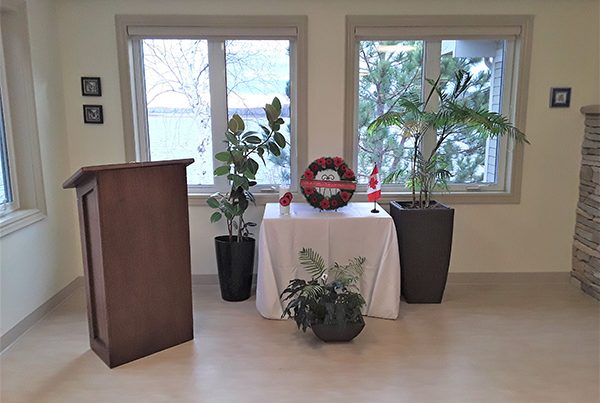 On Thursday November 11th, residents, family members and hospice staff gathered in the common room at 11 a.m. to commemorate Remembrance Day.  All were glad to be able to participate…
Maison McCulloch Hospice is seeking new members to serve on its Board of Directors. Candidates should be passionate about palliative care and advancing the mission of the Hospice in our…

Watch as staff, volunteers, board members and friends of the Maison McCulloch Hospice and the Sudbury Hospice Foundation give a big hug (literally) to Greater Sudbury's only palliative care facility.…
To attend a Grief & Bereavement Discussion Group, please CLICK HERE to consult the attached flyer for dates and times.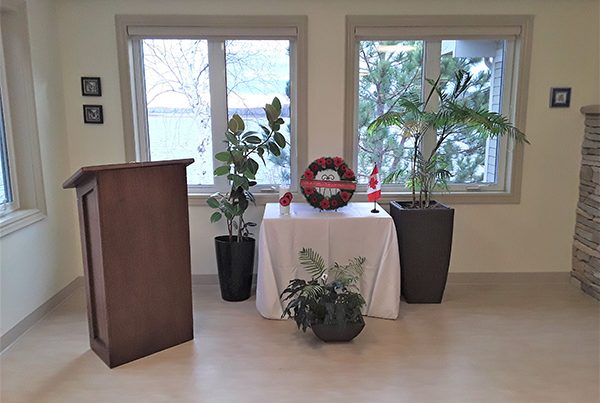 On Thursday November 11th, residents, family members and hospice staff gathered in the common room at 11 a.m. to commemorate Remembrance Day.  All were glad to be able to participate…
The staff was amazing from start to finish. First experience with a family member and it was beautiful.
Thanks for looking after our friend and giving him such a beautiful place to gather with people who loved him.
On behalf of our family, words cannot express our gratitude for having the opportunity to have our loved one spend her last days at the Hospice. What a blessing to her, she was in a respectful, supportive, and caring environment for her palliative care. For us as a family, I was overwhelmed at the supportive environment for us. As soon as we arrived, I felt a huge sense of relief to show her care with competent, caring professionals. The care team was always practising at the highest level of professionalism, as well as ensuring individual/tailored care to our loved one and for the family. The posthumous rituals were so helpful with our grief process. The physical environment of the Hospice was also very calming and encouraged reflection. I appreciated seeing commemorative plaques, etc. that provided a sense of connection to the other residents and families. You have a very special team of staff and volunteers - their authentic and passionnate approach is remarkable. Keep up the indispensable and excellent work.