Mission
The Sudbury Dragon Boat Festival is a group of volunteers active in promoting community spirit and local charities through the partnership of the Chinese Heritage Association of Northern Ontario, the Sudbury Canoe Club and the City of Greater Sudbury, by hosting an annual community DRAGON BOAT FESTIVAL.
This commemorative paddle represents all that is good in the City of Greater Sudbury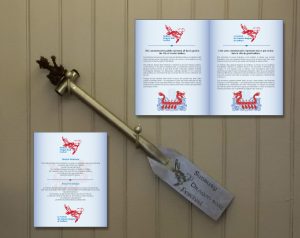 It symbolizes teamwork at its very best and illustrates that as a population with much diversity woven throughout our fine city, we can come together as one community in the true spirit of friendship.
The Sudbury Dragon Boat Festival is founded on ancient Chinese tradition. On the surface, it focuses on winning races. Look below the surface and you witness profound forces at work that tie this community together, building comradeship between our differences, building strength in our character, and building our conviction that we can all be the victor if we collectively act as one.
Though ancient paddles were made of wood, this paddle has been finely crafted of stainless steel — an expression of both our mining heritage and the shear strength of the community within our midst. The dragon atop is carved of red jade to symbolize the heart of all good people who call Sudbury home.