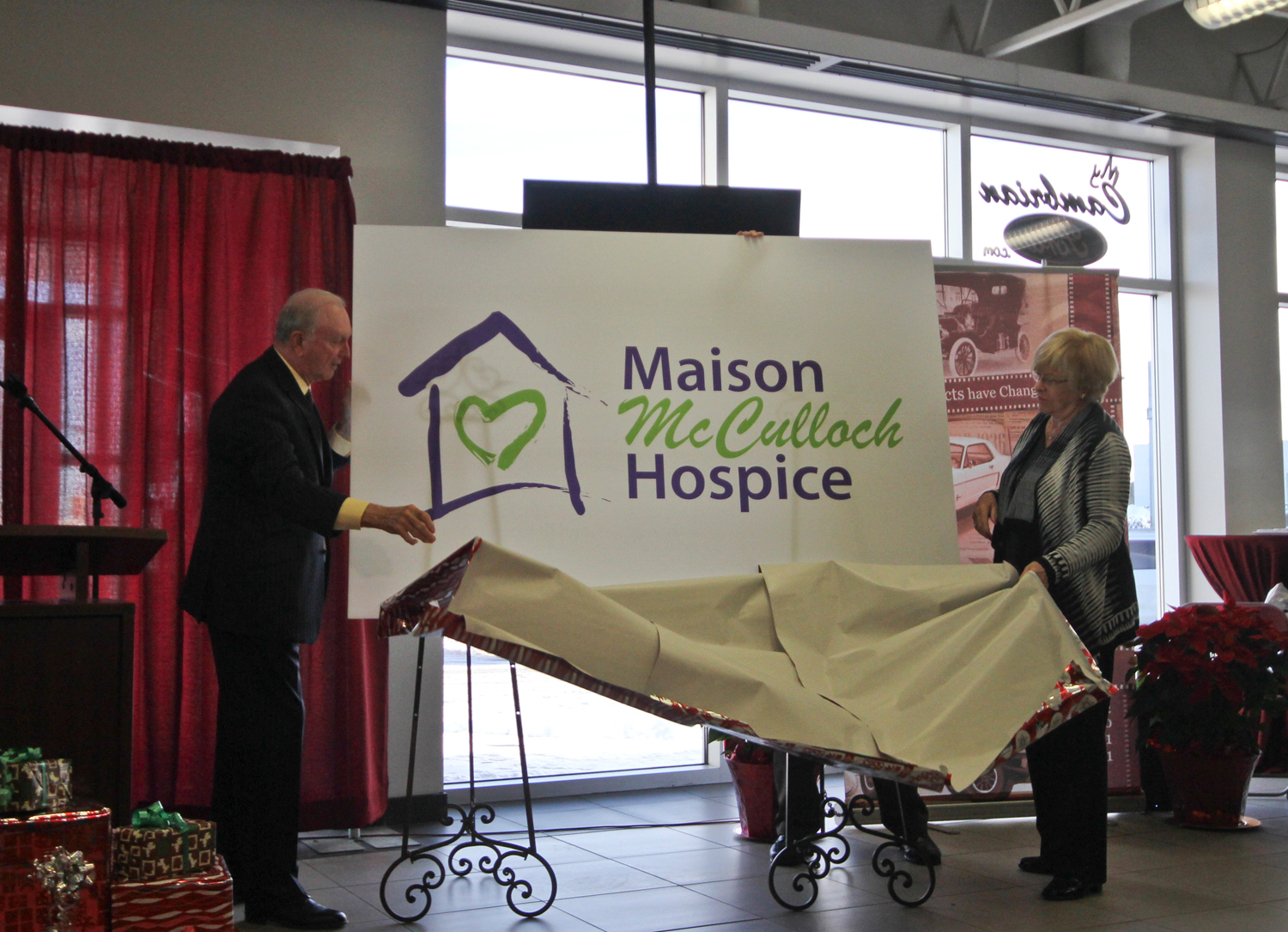 SUDBURY, Ontario (December 22, 2016) – The Sudbury Hospice Foundation is pleased to announce that the McCulloch Family has made the single largest donation to date towards the upcoming capital expansion of the community residential hospice. With this donation of $1 Million, the Sudbury Hospice will now be renamed Maison McCulloch Hospice.
"We are very proud to be a part of this major undertaking at the Hospice. We have been aware of the great service the Hospice offers to the community ever since our son Stephen passed away at the Hospice in September, 2013. As a family, we were overwhelmed by the compassionate care and professionalism, from the Executive Director, Léo Therrien, to all of the staff and volunteers. The Hospice is a very special place. The atmosphere soothes those who are leaving us, and also soothes those who are left behind."
– Bruce & Sandra McCulloch, Donors
"By way of this donation, the McCulloch Family has demonstrated its profound commitment to fellow Sudburians who need access to end of life care," indicated Gerry Lougheed Jr., Chair of the Sudbury Hospice Foundation and the Hospice. "We appreciate their generosity and kindness. The McCullochs are well established and respected business leaders who believe in giving back to their community."
Maison McCulloch Hospice will continue to be a Centre of excellence dedicated to the collaborative delivery of quality hospice palliative care in both official languages in the Sudbury-Manitoulin Districts. The Hospice helps individuals and their families realize their full potential to live even when they are dying, by attending to their physical, psychosocial, spiritual, and practical needs, in the location of their choice.
"This is truly the greatest Christmas gift the Hospice has ever received," indicated Léo Therrien, Executive Director of the Hospice. "It really shows the great generosity of our Sudbury community."
The McCulloch Family
Bruce McCulloch
Sandra McCulloch
Scott McCulloch
Susan McCulloch
Marett McCulloch
Alex McCulloch
Devin McCulloch
Sam Legault
Garett McCulloch
Montana McCulloch