Marche pour la Maison de soins palliatifs de Sudbury
What's happening?
In the spring, people across Canada gather pledges and then Hike to raise public awareness for hospice palliative care in their individual communities. This major fundraising initiative helps advance the hospice palliative care initiatives in our community.
What is Hospice Palliative Care?
Hospice palliative care provides physical, psychological, social, spiritual and practical support to people living with life-threatening illness, their loved ones and the bereaved.
Why Hike?
80% of Canadians say they want quality hospice palliative care at the end of life, yet less than 15% actually have access to the care.
To support Maison McCulloch Hospice as it seeks to improve and increase its offerings to the Sudbury District.
Form a Team!
Why not form a team and walk with friends, family, or work colleagues. Name a team captain, choose a team name, and have a blast!
Thank you to all of our sponsors for their continued support!
Click here for 2018 event photos
CLICK HERE TO REGISTER & FUNDRAISE ONLINE!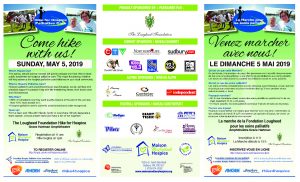 Click Image TO DOWNLOAD A PLEDGE FORM TO FUNDRAISE OFFLINE! (The page is 8.5 x 14 inches, therefore select "FIT TO PAGE" when printing.)